Google Calendar
Bookmark these for accessing per day events in calendar
# hello world with bookmark scripting


javascript:

(()

 

=>

 alert

(

'hello'

))()

;





# Today - Calendar Events


javascript:

(


    

()

 

=>

 

{

 
        const today 

=

 new Date

()

.toISOString

()

.split

(

'T'

)[

0].replaceAll

(

'-'

, 

''

)

;


        window.location  

=

 

`

https://calendar.google.com/calendar/u/0/r/search?start

=

${

today

}

&end

=

${

today

}

`


     

}




)()

;






# Tomorrow - Calendar Events


javascript:

(()

 

=>

 

{


    const today 

=

 new Date

()

;


    const tomorrow 

=

 new Date

(

today

)

;


    tomorrow.setDate

(

today.getDate

()

 + 1

)

;


    const tomorrowFormatted 

=

 tomorrow.toISOString

()

.split

(

'T'

)[

0].replaceAll

(

'-'

, 

''

)

;


    window.location  

=

 

`

https://calendar.google.com/calendar/u/0/r/search?start

=

${

tomorrowFormatted

}

&end

=

${

tomorrowFormatted

}

`




})()

;






# Day After Tomorrow - Calendar Events


javascript:

(


    

()

 

=>

 

{

 
        const today 

=

 new Date

()

;


        const dayAfterTomorrow 

=

 new Date

(

today

)

;


        dayAfterTomorrow.setDate

(

today.getDate

()

 + 2

)

;


        

let 

dayAfterTomorrowFormatted 

=

 dayAfterTomorrow.toISOString

()

.split

(

'T'

)[

0].replaceAll

(

'-'

, 

''

)

;


        window.location  

=

 

`

https://calendar.google.com/calendar/u/0/r/search?start

=

${

dayAfterTomorrowFormatted

}

&end

=

${

dayAfterTomorrowFormatted

}

`

;


     

}




)()

;



Reminders removed completely from google calendar and turned into tasks
Checker plus for Google Calendar - 1
Checker plus for Google Calendar - 2
You can snooze in interesting ways!!
You can toggle between view with key in google calendar
d - day wise
w - Week wise
m - month wise
y - year wise

4 - 4 days wise
a - schedule wise (personal favourite)

You can email a list of people for an event like that
You can now propose a different time for a meeting as well now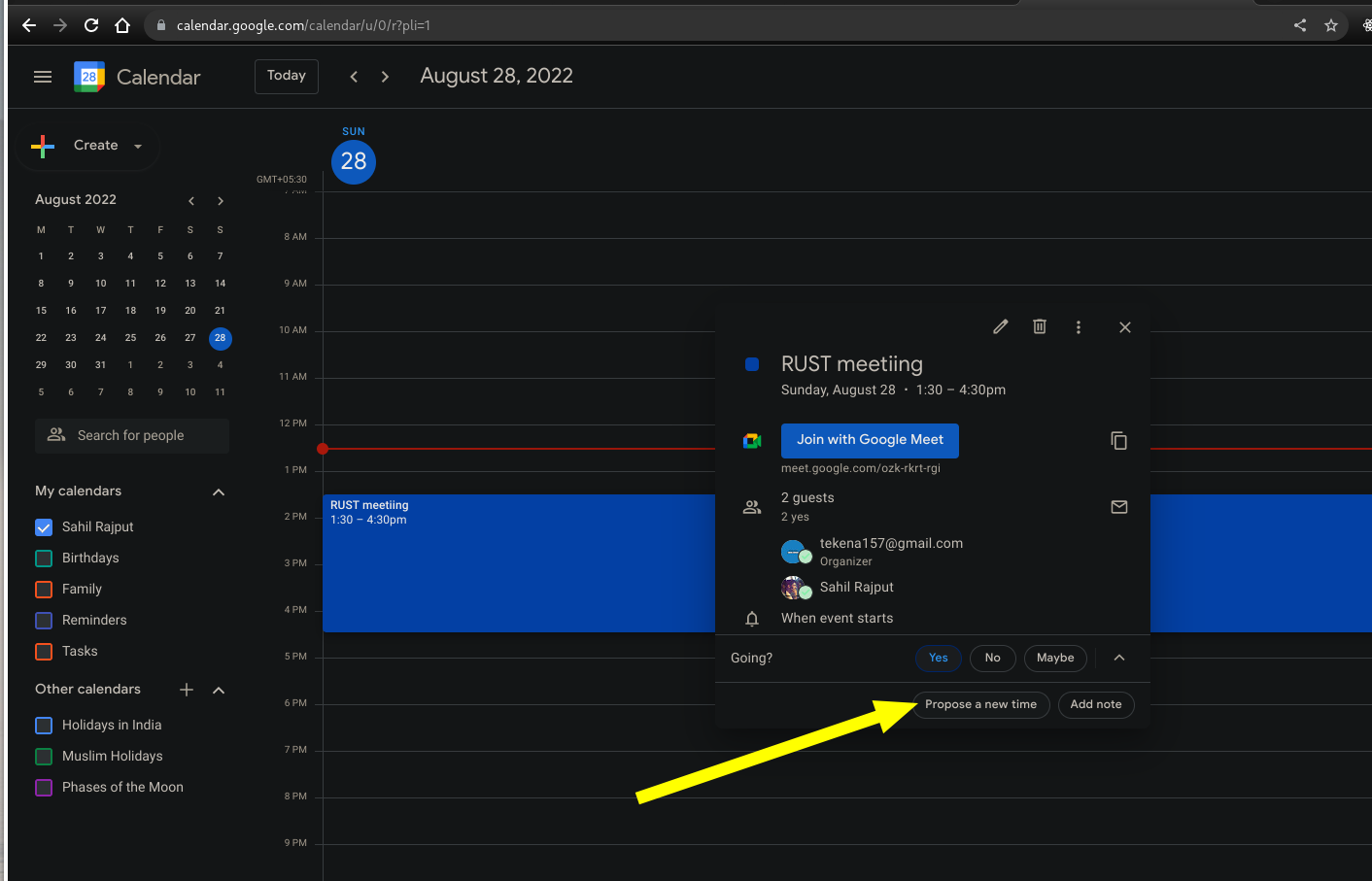 Cluttered view in your calendar ?
Try toggling calendars under My Calendars for Sahil Rajput, Birthdays, Family, Reminders and Tasks.
Try turning off calendars under Other Calendars for Holidays in India, Muslim Holidays and Phases of Moon.
You can have appointment page for bookings via google calendar now as well
Similar to how calendly does that.
Source: https://youtu.be/7AsmRNiveGc