Learn postman
We can mark collections as starred so that they appear on the top like that -
We can use params ❤️❤️ in postman with a beautiful syntax like that:
Delete workspace (#remove workspace)
TODO: Learn how teams work in postman
Choosing between collection variables vs. environment variables
NOTE: Environment variables always override collection variables.
Important: Postman never read values form "Initial value" column ever.
Inheriting authorization from authorization defined in collection settings
Beware Beware Beware that you must remove "Inherit Authorization" from the signin/login requests as shown in below screenshot otherwise your' backend may intercept those requests badly. (WARNIN: In slasher it actually does).
Setting variable at collection level:
var

 

jsonData

 

=

 

pm

.

response

.

json

();





// 1. setting in currently active environment (MOST COMMONLY NEEDED, Date: 28 May, 2023)




pm

.

environment

.

set

(

"

TOKEN1

"

,

 

jsonData

.

token

);





// 2. setting collection variable




pm

.

collectionVariables

.

set

(

"

TOKEN1

"

,

 

jsonData

.

token

);





// 3. setting globally




pm

.

globals

.

set

(

"

TOKEN1

"

,

 

jsonData

.

token

);



Thats how you set collection specific variables:
Thats how you export a postman collection:
There are three types of variables-
To use a environment variable, make sure you have an active environment:
Realistic Example of setting and using a global variable (global environment variable):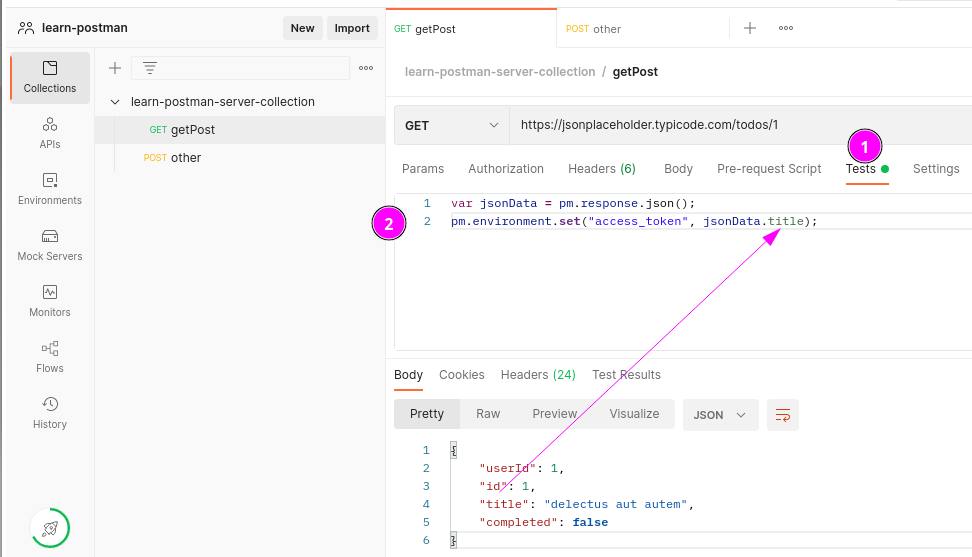 Thats how you set a global variable with postman tests:
Course video:

https://www.youtube.com/watch?v=juuhb3W8xT4
https://www.youtube.com/watch?v=VywxIQ2ZXw4

Socket.io Server Requests

Source: Official Postman Article - Click here

You can choose client version now:

Set url of socket now (connects automatically to: localhost:PORT/socket.io):

You can set authorization header with socket like that (even though browsers don't allow setting headers for socket connections yet ~Eric Slasher Project Notes):

Listening to event and sending event (see next screenshot as well):

How do we get the return value (Acknowledgement) from the event as we can see the return value of the event handler in the code:

You can write documentation for a postman requets like that:
In a request payload you can now write comments with // and /* */ format by adding that pre-script code
Source Stackoverflow Answer: Click here
// Strip JSON Comments




if

 

(

pm

?.

request

?.

body

?.

options

?.

raw

?.

language

 

===

 

'

json

'

)

 

{


    

const

 

rawData

 

=

 

pm

.

request

.

body

.

toString

();


    

const

 

strippedData

 

=

 

rawData

.

replace

(


        

/

\\

"|"

(?:\\

"|

[^

"

])

*"|

(\/\/

.*|

\/\*[\s\S]

*

?\*\/)

/g

,


        

(

m

,

 

g

)

 

=>

 

g

 

?

 

""

 

:

 

m


    

);


    

pm

.

request

.

body

.

update

(

JSON

.

stringify

(

JSON

.

parse

(

strippedData

)));




}





// To set Content-Type again (see the original stackoverflow answer's comment section):




// pm.request.upsertHeader({key: 'Content-Type', value: 'application/json'});



Also you can make use explicit comment section to make notes as well:
Thats how you can use param variables (actually called path variables in postman)

Set authorization "bearer token" header easily
How to send file in http request
In slasher:
We can fetch an image in postman as well: